RESPONSIBLE FOR THE CONTENT MICHAEL MARTIN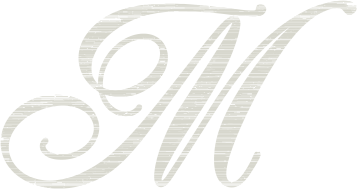 ROUGH EDGES AND FLAWS WELCOME
Since 1985 I've been producing wines, whereat I've been growing better each year. However, to be honest: I have to admit that during this improvement phase my wines have been becoming more and more homogenous. I'm really satisfied due to getting the maximum out by achieving exquisite wines. Rough edges and flaws? Dead losses! For me, as an ambitious full-blood winemaker a kind of a painful realisation.
However, today I think it was the right time to come to this recognition in the year 2011, since I was allowed to ask the one or the other essential question in the midst of my working life. For example: How to organise the "second half of my working life"? My Answer? There will be enough space for rough edges and flaws. This applies in particular to my wines as well as to my staff. Thus, WELCOME to our wondrous kingdom consisting of a cute gaggle of cranks! (Hopefully to be considered in positive terms …)
WHO ACTUALLY WORKS THERE?
Bevor starting to tell how far I was able to turn to the better, I want to introduce those who have played a key role in changing things:
… First of all there is Gerda our "good fairy" in the office. When she first came to us she thought that customer talks wouldn't be her strength due to being too burdensome. Now, she's blabbing all day long with them and actually she's quite happy with this.
… Heidi who is responsible for shipping cannot stand waiting for ordered goods, especially shoes. That's why she's the one who always does her best to check that our customers get our wines delivered as fast as possible cause naturally they don't want to wait.
… Hubert is at our "Martinshof" for ever and ever. He is the one who knows who goes in and out.
… Lorenz is the most chaotic one of all of us. Especially in delivering our wines sometimes everything doesn't go smoothly. Fortunately, at the end everything is working correctly again.
… Jaroslav cannot say a single word in German though he's here for years. However, that's no problem for him cause while working in our vineyards he needn't speaking thus he exactly knows what to do.
… Klapper "Fhöni" is our graphic artist. It is important to him to write on our labels "RESPONSIBLE FOR THE CONTENT MICHAEL MARTIN": Moreover, he feels that he has much more competence for consuming wine than for producing it.
… Hermann Nitsch – it needs to be mentioned this worldwide famous painting artist – is no winegrower himself but rather a wine connoisseur. We have the honour to take care for his vineyards and to produce his wines. Without any doubt, Nitsch has got rough edges and flaws.
… Michi (that's me) has difficulties in assessing himself. Maybe I'm the one who is able to stick together all of us; however my biggest part and challenge is to take particular care to ensure that the quality of our wines is right and at a high level.
THE FOOTBALL KNOWS IT EXACTLY:
MONEY DOESN'T SCORE ANY GOALS
Let's turn to the question about what more I decided to alter in 2011, my personal year of change? For example, that the "Martinshof" should remain a family-run business, that later should be passed on to my children with a peaceful mind. My goal was to achieve about 20 ha of vineyards of delicious Austrian Burgundy wines, my favourite ones. Due to the fact that my machines and operational facilities were in a good functional condition, there was no need for any significant improvements. Despite, I was already aware that taken more money in hand makes producing wines easier and faster, however, that should remain concern of those who try to avoid standing out from the rest. My motto has always been: As a winemaker I'm not an industrialist!
Quite apart: Money doesn't score any goals!
Genuine innovations always come from the smaller companies.
DEVELOPMENT WORK IN THE VINEYARD:
EVERYBODY IS MILLING ABOUT BUSILY!
To my mind, sustainable improvements primarily come from the vineyard. There's the source of success. Consequently, for me that was the central point I had to focus on at first. All above, the ground of my vineyards appealed to me the most. It depends on the ground what the plant really needs to let excellent grapes grow. Therefore, we started to plant the ground with grass and to aerate it to achieve more plant diversity with much more organisms in the soil such as insects, microbes, bees to name just a few. But why? Because for a really good wine best teamwork is the basis! Then we adapted the fertilisation.
As with human beings, cause a person who only has an unbalanced diet, puts on weight continuously, but it does not fill stomachs. Thus more of the right balance is needed. Stupidly, the full effect can only be seen after one to two years – and only then you have the possibility to optimise the fine-tuning. However, also stupid that the weather is often not on our side. Firstly there is the frost, secondly the drought and not to forget – as we had to face in 2014 – too much rain. It was horrible, you can bet your life on that. But I didn't lose my nerves; though I shed a tear or two … but only secretly.
WHERE WOULD THE JOURNEY ACTUALLY TAKE US?
Even though 2014 wasn't a promising year, we always knew where the journey is going. Our wines should be more typical but also easier-to drink cause the "strong years" were over. That meant less alcohol but much more full aroma, a more ripe and lasting flavour, a rounded wine but also with rough edges and flaws. All in all one can say: an unconventional really good drop of wine – like everything in and around the "Martinshof".
In other words: You meet a friend, you piffle with him intensely, the wine tastes excellent, a second bottle is opened and the conversation picks up pace. We aimed to make precisely these types of wine! One that inspires the bon vivant with an overwhelming feeling, but not bone-crushing.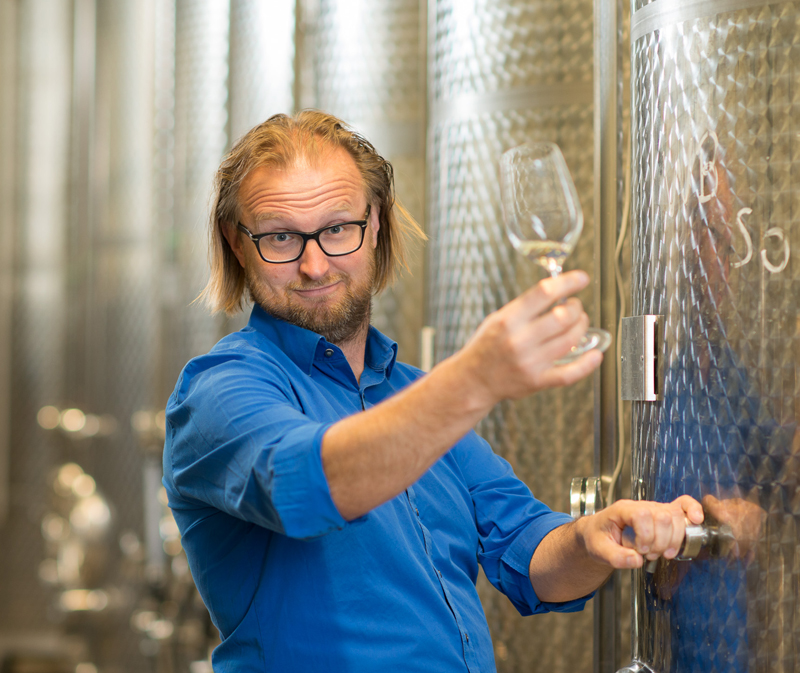 IT'S BEEN A LONG WAY:
HOWEVER, WE'VE ARRIVED!
When a cook wants to improve something, there are umpteen opportunities to do so. As a winemaker you can only intervene once a year – but in the end you can expect about four to six years until the desired effect is achieved.
We weathered the year 2014 in a good shape; then everything changed for the better. Despite dry weather our vineyard started to bloom. Our neighbours were surprised and asked us how much water there was needed to achieve such optimum results …
In a nutshell: Nothing! Our trump card was the ideal ground that ensured the higher output. Possibly bad for the quality of our grapes? Not a bit! Due to the well-balanced "diet" the efficiency had increased appropriately. We've arrived at a point of development today where we can say that we have come quite a long and sometimes difficult way, however, our strategy has paid off taking that one. Now you can get started on the really cool stuff.
IF IT MATCHES UP: THEN IT WORKS!
I demand from my vineyards more than others, however, I provide them everything they need. Therefore, they can do a really good job. In no way, there is any stress. If it were, you would taste it in our wines anyhow. We all can identify ourselves with our work and this is exactly what we have ever done and do now. Wines from the "Martinshof" now are lower on alcohol; but fuller and rounder in taste. They are richer in content than ever before; but not lush in taste.
They are even produced with less effort in our vineyards. Any "make up" is passé; much rather now our wines are more individual. The ground, the soil life, the grapevines and the grapes, all of them do their stint to provide this wine quality you expect from us and you will be pleased about!
Here's to you! Michi Martin